Spring Break movies are a unique beast. In many ways, the genre is an offshoot of the beach party movies from the 1960s. The beach movies of the 1960s were simple, fun, and represented All American values. The Spring Break movie, truthfully, hailing more from the 1980s than the '70s, are similar in that their characters are looking for fun and a good time. However, Spring Break films have a devilish side. Yes, when you have a Spring Break movie, you can expect to see some sex.
Spring Break movies are, at their heart, party films and tap into the youth culture of feeling like the party will never end. As students in school and college normally celebrate Spring Break, the genre of films tends to be aimed at and centered on characters in high school and college. Like the party movie, who doesn't want to have Spring Break even when it's out of season? These movies last because they are part comedy, part fantasy, but always a good time. Quite simply, Spring Break is a state of mind that we all want to be in.
Update May 25, 2023: The summer season is about to begin this Memorial Day weekend, but that doesn't mean the Spring Break feeling has to go away. This list has been updated with even more films that capture that Spring Break vibe.
So, as summer starts to rear its glorious, glowing head from around the corner, spring is in full bloom, and these films are ever more topical. With their different plots and interesting take on the human condition, what could be better than a list that attempts to put them all in one place? So put on the suntan lotion, lay out by the pool, and take a look at the best Spring Break movies of all time.
18
From Justin to Kelly (2003)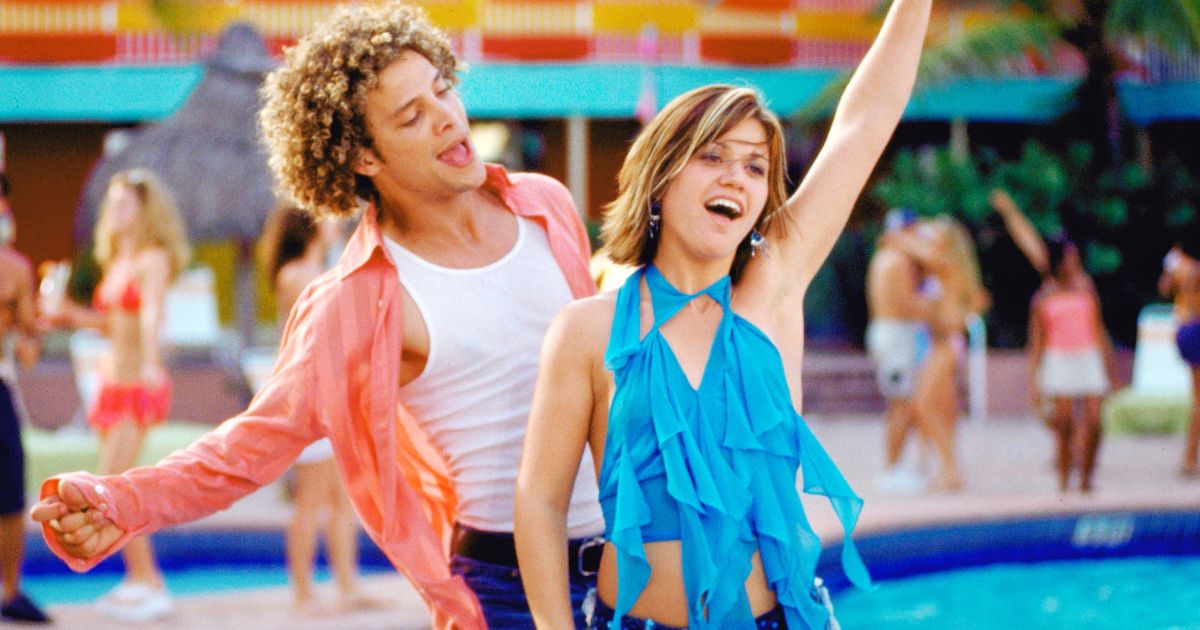 Alright, before anyone clicks on something else because you can't believe this horrible movie is on ANY list, you have to hear us out. Timing is everything. Had From Justin to Kelly been made as Justin and Kelly were competing on American Idol and then been released right after the show, this movie would've made bank. As a result, when it came out many months later, it felt like an also-ran.
Related: Best Movies to Watch With Your Kids During Spring Break
In this musical (what else could it be?), Justin (Justin Guarini) arrives in Fort Lauderdale, Florida, for Spring Break with his friends. He quickly meets Kelly (Kelly Clarkson). Justin falls for Kelly instantly, but Kelly's jealous friend, Alexa (Katherine Bailess), does everything she can to keep them apart. Young people having fun in the sun, misunderstandings of the heart, and musical numbers to boot, this movie has all the hallmarks of a Spring Break movie, and while it doesn't make it good, it at least makes it part of the genre.
17
Revenge of the Nerds II: Nerds in Paradise (1987)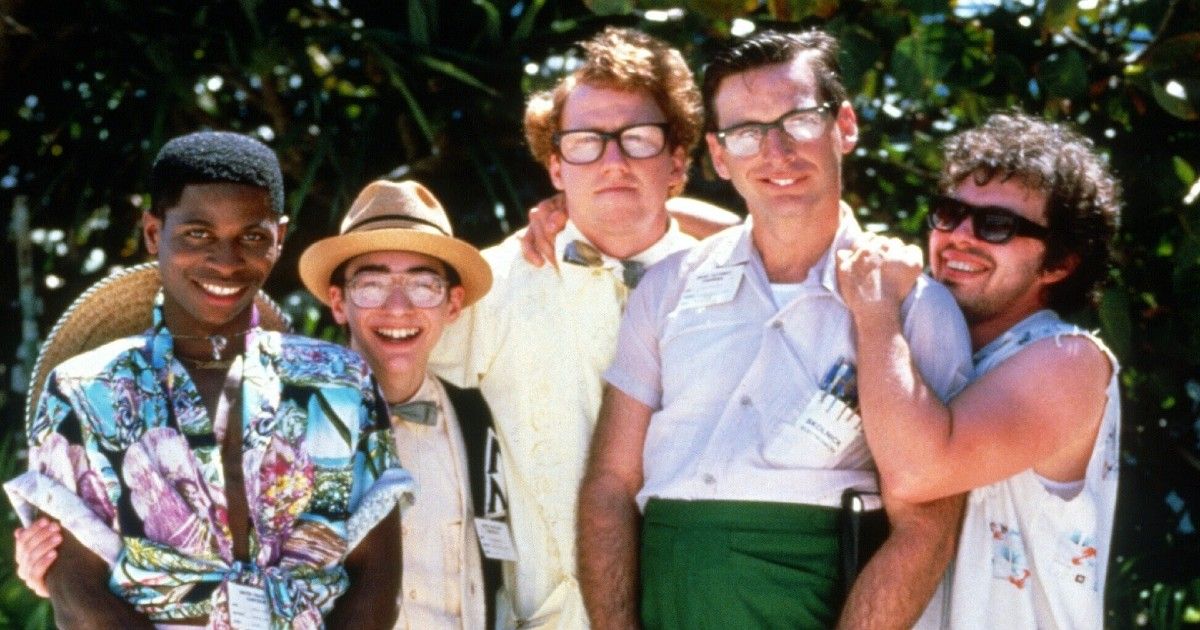 Shortly after beating the jocks in the Alpha Beta fraternity in the first film, the nerds of Tri-Lamba head to Fort Lauderdale, Fla., to attend a national fraternity convention in Revenge of the Nerds II: Nerds in Paradise. Sadly, Alpha Beta is also in attendance and wants to settle the score. Now the nerds have to fight to be on the beach. A Revenge of the Nerds film set on a beach in Florida just gives off Spring Break vibes, even if it isn't directly about Spring Break.
16
Mardi Gras: Spring Break (2011)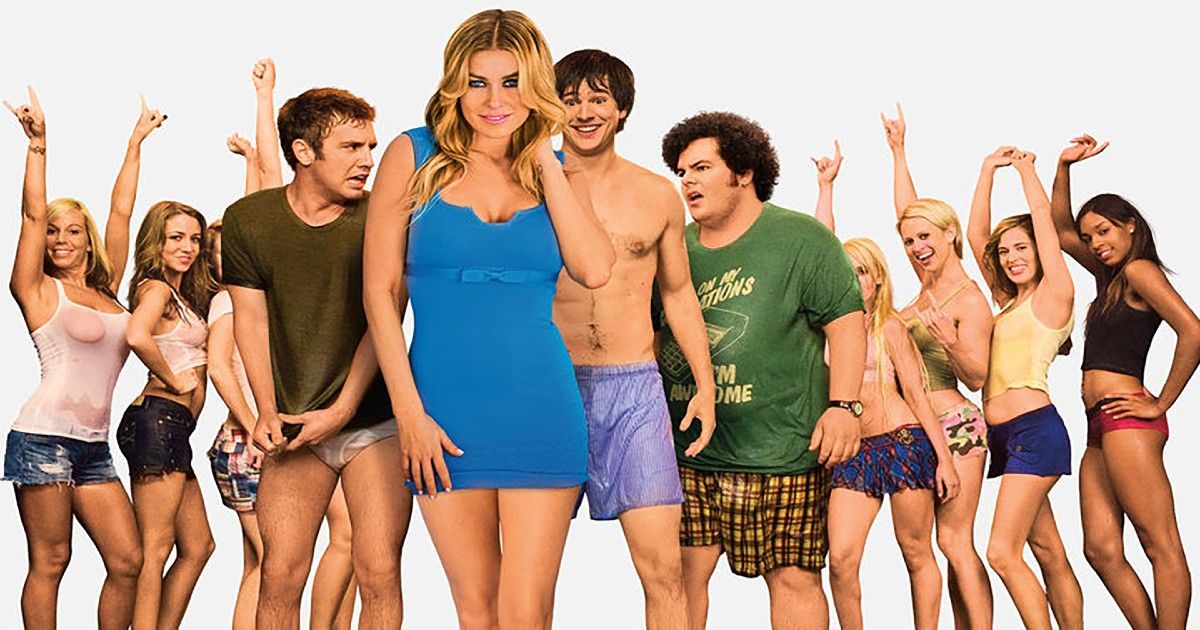 Audiences know exactly what they are going to get by the title of this movie, Mardi Gras: Spring Break. It's dumb and campy, with loads of grotesque humor, sex, drugs, and drinking. Mardi Gras and Spring Break do not fall at the same time, but hey, who's even paying attention to that? Carmen Electra makes her appearance in this teenage/young adult movie and fulfills the dreams of these teenagers. It will show you the raunchiest angles of Spring Break with no strings attached.
15
Dirty Grandpa (2016)
14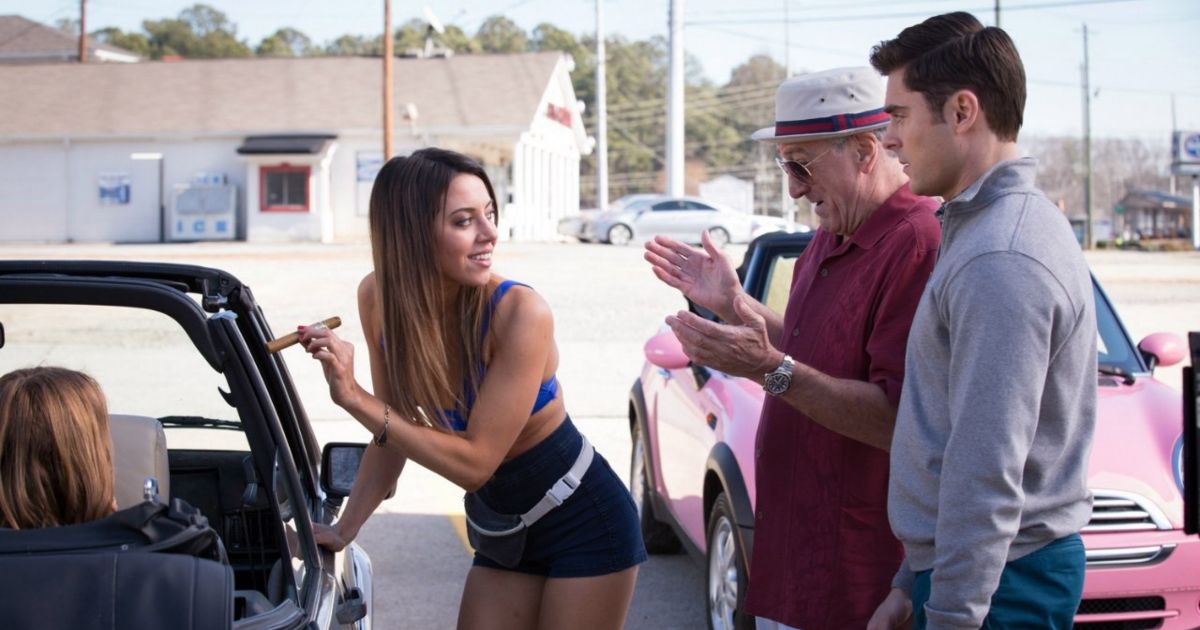 Right before Jason Kelly (Zac Efron) walks down the aisle and into a lifetime of happiness with his soon-to-be wife, his horribly mannered ex-Army Lieutenant Colonial grandpa (Robert De Niro) wants to take a Spring Break trip to Florida with his favorite grandson. Dirty Grandpa isn't your average Spring Break movie, but it's a good one filled with inappropriate De Niro moments, beautiful scenery, and some good old-fashioned grandpa/grandson bonding before the grandson becomes officially a man with his own life. De Niro is no stranger to making movies excellent with his hilarious acting, and this is one of those must-watch De Niro movies.
13
The Malibu Bikini Shop (1986)
12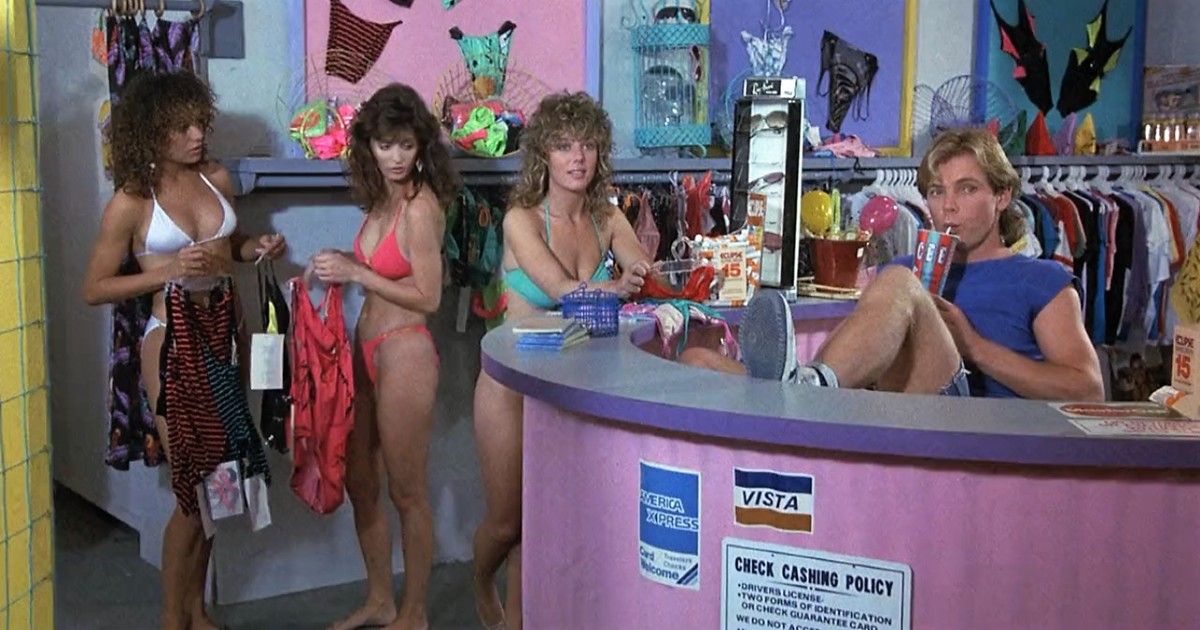 In The Malibu Bikini Shop, two goofball college graduate brothers inherited a failing bikini shop and decide to do whatever they must to get it hopping with bikini girls. They go to enormous heights to bring in business and end up attracting the wrong kind of attention. One brother wants to have a successful business, while the other just wants hoards of women in and out of bikinis in his life and shop. The title alone is one of the most Spring Break-sounding movies.
11
Spring Break (1983)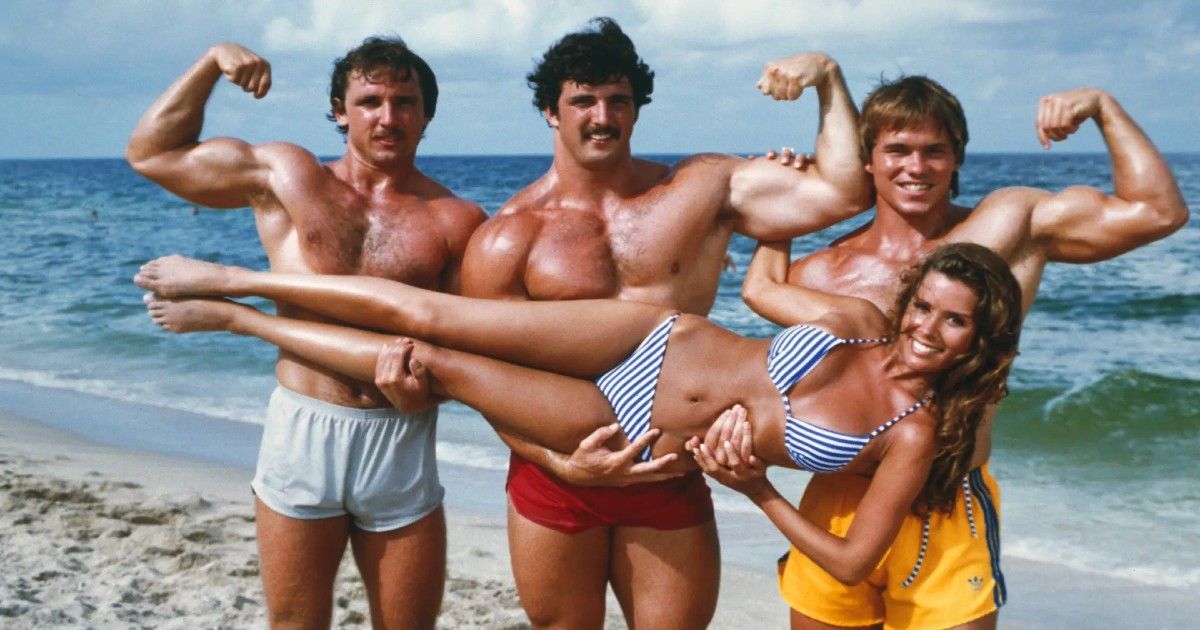 What makes Spring Break such a seasonal film is the fact that it has some cool guys showing some not-so-cool guys how to have a good time. This is a classic plot device of this genre. When Stu and O.T. show up in Fort Lauderdale for a great Spring Break, they discover that their motel room has been double-booked. Never people to walk away from a good time, they take up with the bookish Nelson and Adam. Suddenly, the odd couple turns into the "bod" couple as these guys search out girls, girls, more girls… and beer.
10
The Beach Girls (1982)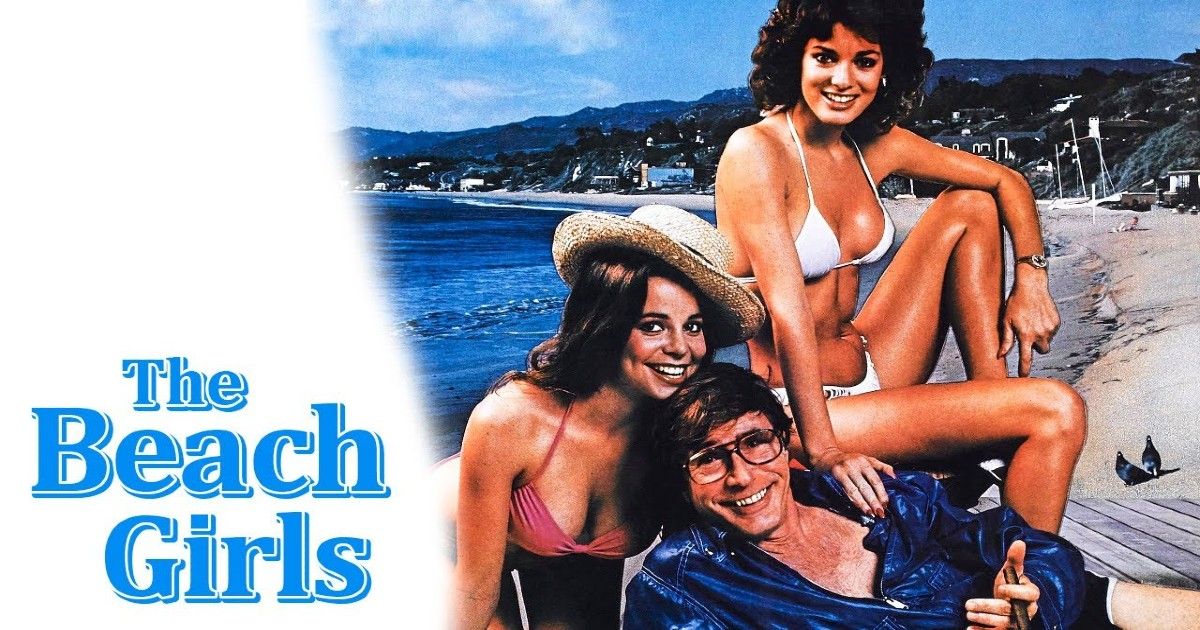 Again, the 1980s comes through in this tale of beach fun, The Beach Girls. When Sarah's (Debra Blee) Uncle Carl (Adam Roarke) invites her to stay at his beach house for the summer, she, of course, brings her college friends Ginger (Val Kline) and Ducky (Jeana Tomasina). They talk Sarah into throwing a huge party, and soon the neighbors are upset. Uncle Carl comes back to yell at the girls but soon joins in the fun. Okay, this may not 100% be a Spring Break film, but come on, when the vibe is there, and you have that Spring Break feel, sometimes you just have to go with it.
9
The Real Cancun (2003)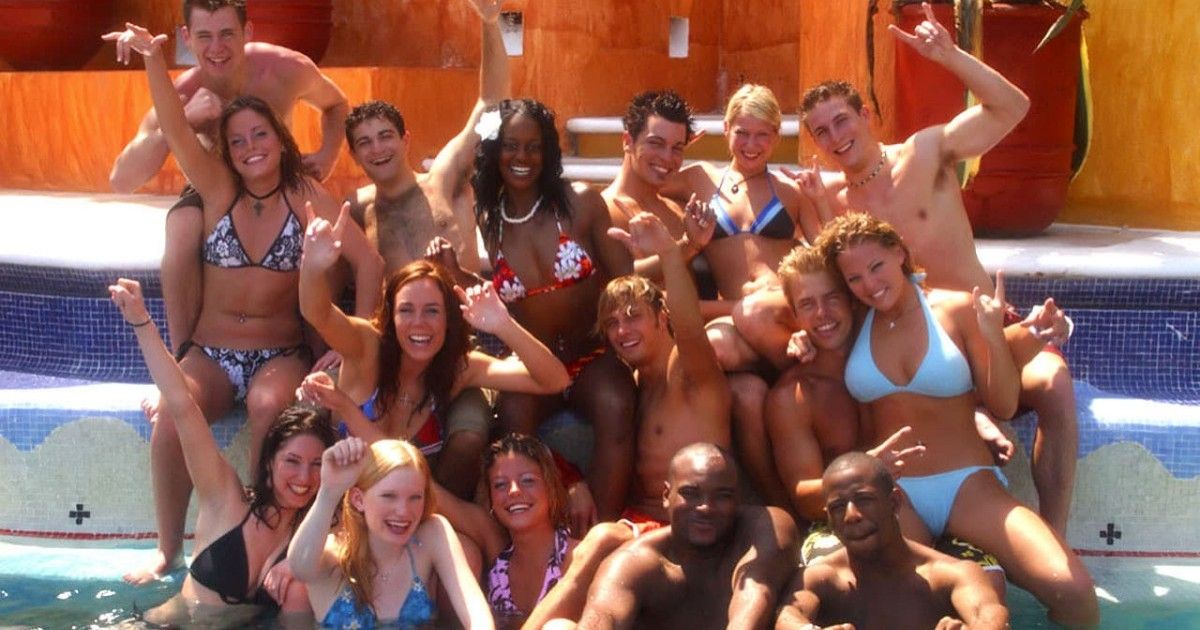 Reality TV gets into the mix with this movie, The Real Cancun, as 16 young Americans head to Cancun, Mexico. While there, they indulge in copious amounts of sex and booze. Taking place over the course of 11 days, the students, all in the classic roles of ladies' man, party girl, and virgin, are stalked by cameras as they drink more than anybody should and try to bed down with as many members of the opposite sex as circumstances allow. Sure, the fun of this film is sort of stilted by the Reality TV vibe (as you're getting your party on, you don't really want to think about real life, do you?) But it gets a lot right and was sort of a precursor to films like Spring Breakers.
8
Piranha 3D (2010)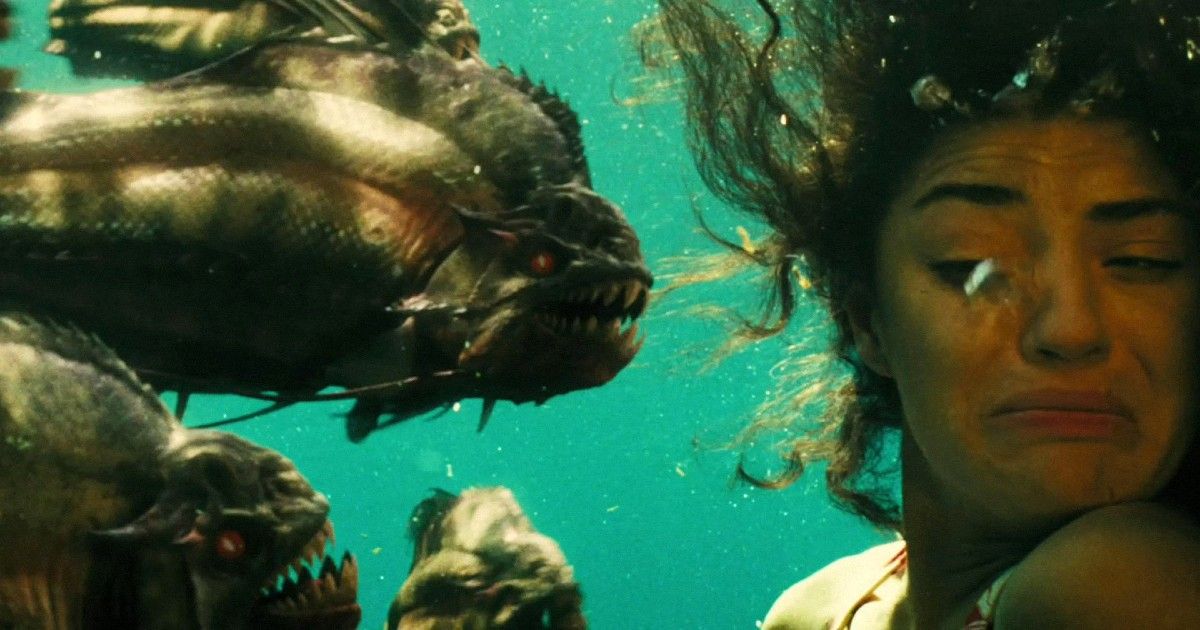 A remake of Roger Corman's late 70s classic Piranha, Piranha 3D reveled in gore, violence, and nudity. Featuring such solid thespians as Richard Dreyfuss, Ving Rhames, and Christopher Lloyd, this remake shows what happens when an underwater earthquake lets lose a swarm of killer fish in Lake Victoria. Suddenly, some concerned residents have to save a bunch of newbies from becoming fish food.
Related: The Best Movies About the End of School For Summer
Like most Spring Break movies, this one serves up copious amounts of nudity and blood. What makes it so entertaining is the fact that it actually has a really good cast (did we mention Elisabeth Shue and Jerry O'Connell are also in it?) that has to deal with all of this. Spring Break was never acted so well!
7
She's All That (1999)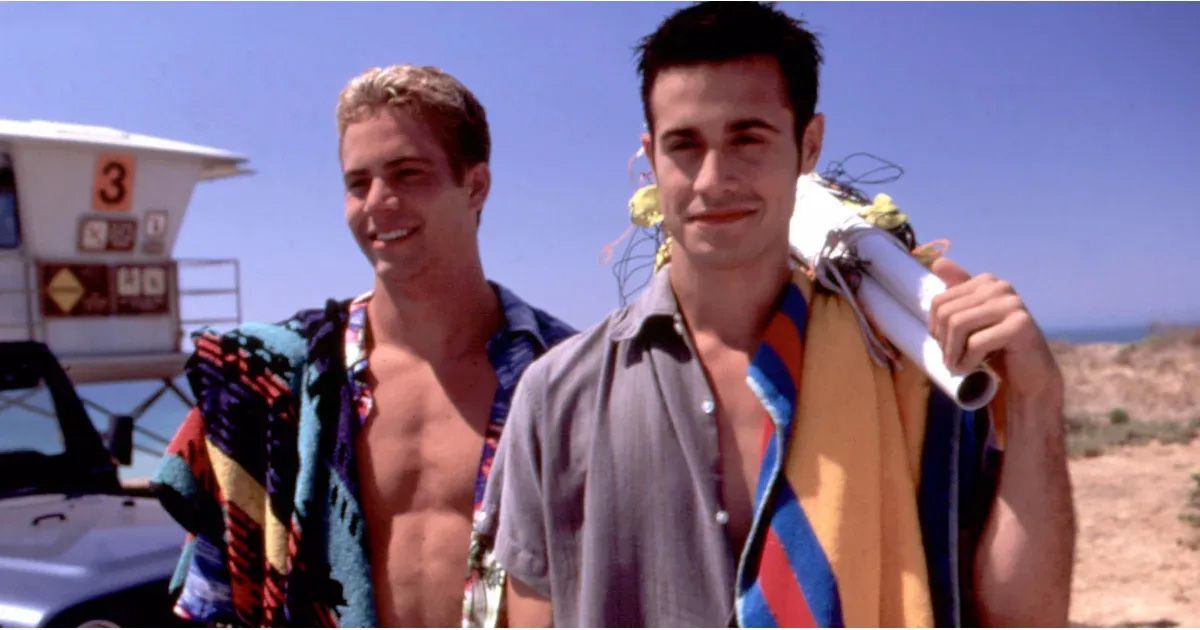 This sleeper hit of 1999, She's All That, is not really a Spring Break film at all…But it is. High school hottie Zach (Freddie Prinze Jr.) is the envy of his peers. Things take a turn when his cheerleader girlfriend, Taylor (Jodi Lyn O'Keefe), bails on him for dopey reality television star Brock Hudson (Matthew Lillard). In an attempt to save his reputation, Zach takes on an impossible challenge. He has to turn nerdy outcast Laney Boggs (Rachael Leigh Cook) into the school's next prom queen. Sure, Spring Break pretty much takes a backseat to this whole film, but it is important to the plot, AND it's nice to see how a little Spring Break goes a long way.
6
National Lampoon's Animal House (1978)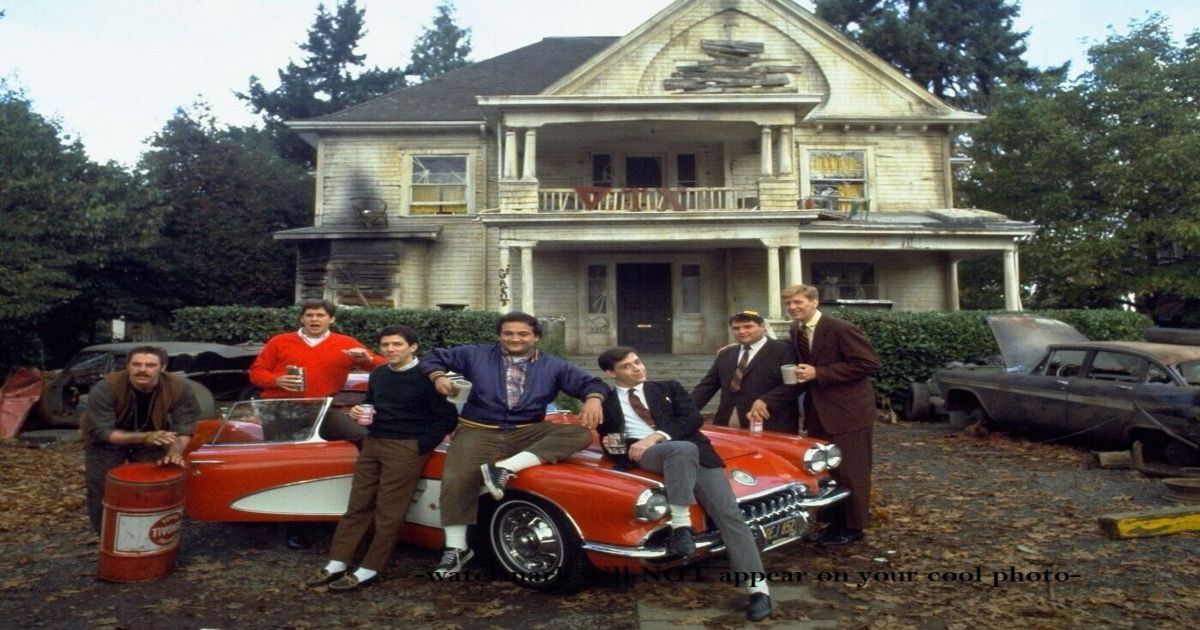 It's tough to beat National Lampoon's Animal House in the party/Spring Break film genre. This is an absolute classic movie about the 1962 Delta Tau Chi fraternity on the verge of being shut down because of its wild parties. The crew will stop at nothing to keep the party going and drive the principal insane. John Belushi, Karen Allen, and Stephen Furst ignite this hilarious party movie and show us the way of the toga.
5
Reno 911!: Miami (2007)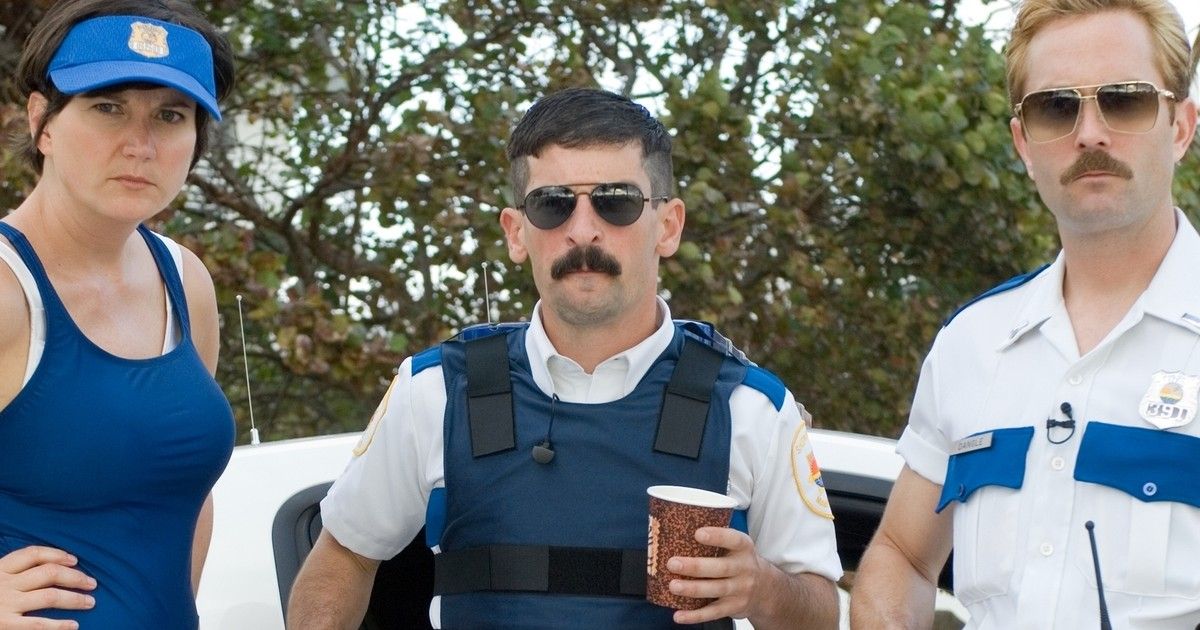 The title says it all, Reno 9-1-1: Miami, right? When bumbling officers (Thomas Lennon, Ben Garant, Kerri Kenney) are finally allowed to attend a long sought-after law-enforcement convention in Florida, things don't seem like they can get any better. However, the fun in the sun becomes serious business when a terrorist attack occurs. Somehow, every officer in Miami is not available, so it is up to the Nevada cops to provide justice. Spring Break really gets the treatment here in both the comedic and socio-political realms. This offering from 2007 is what the Spring Break genre was made for!
4
Zola (2020)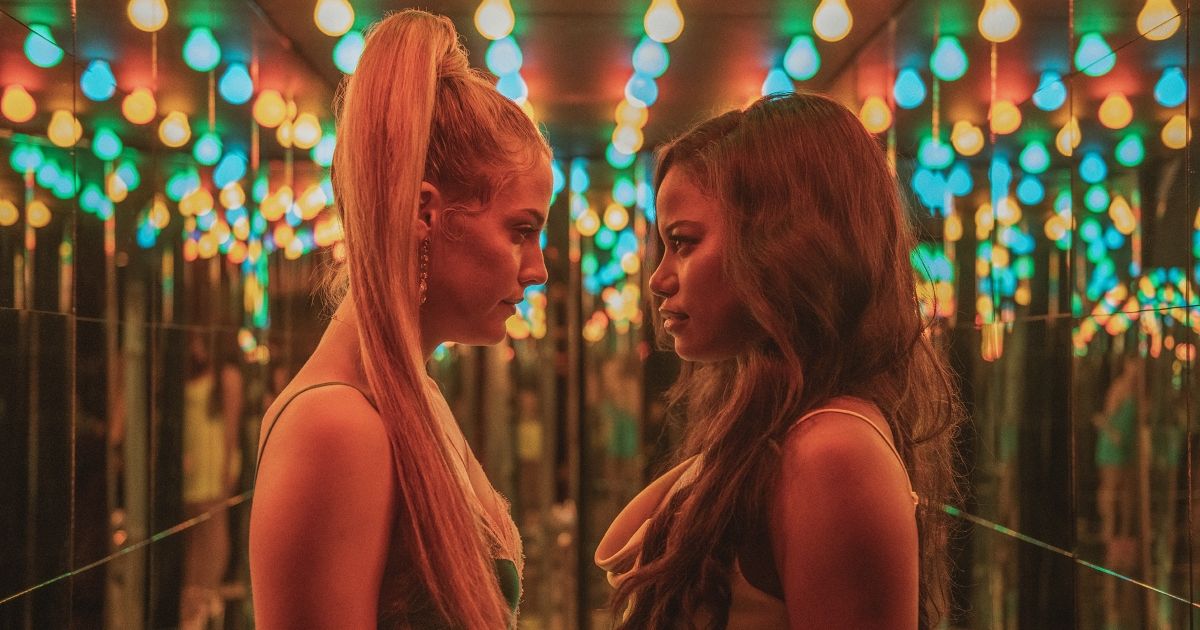 While Zola might not be about or set at Spring Break, the movie has a very Spring Break vibe. After all, the movie is about a trip to Flordia, one of the top destinations for Spring Break. The film follows a part-time stripper (Taylour Paige) who is convinced by her best friend (Riley Keough) to go on a trip to Flordia. The film is based on a viral Twitter thread which was adapted into a Rolling Stones article, "Zola Tells All: The Real Story Behind the Greatest Stripper Saga Ever Tweeted" Unlike many of the other films on this list, Zola can actually be considered not just a good movie, but a great movie.
3
Bodies Bodies Bodies (2022)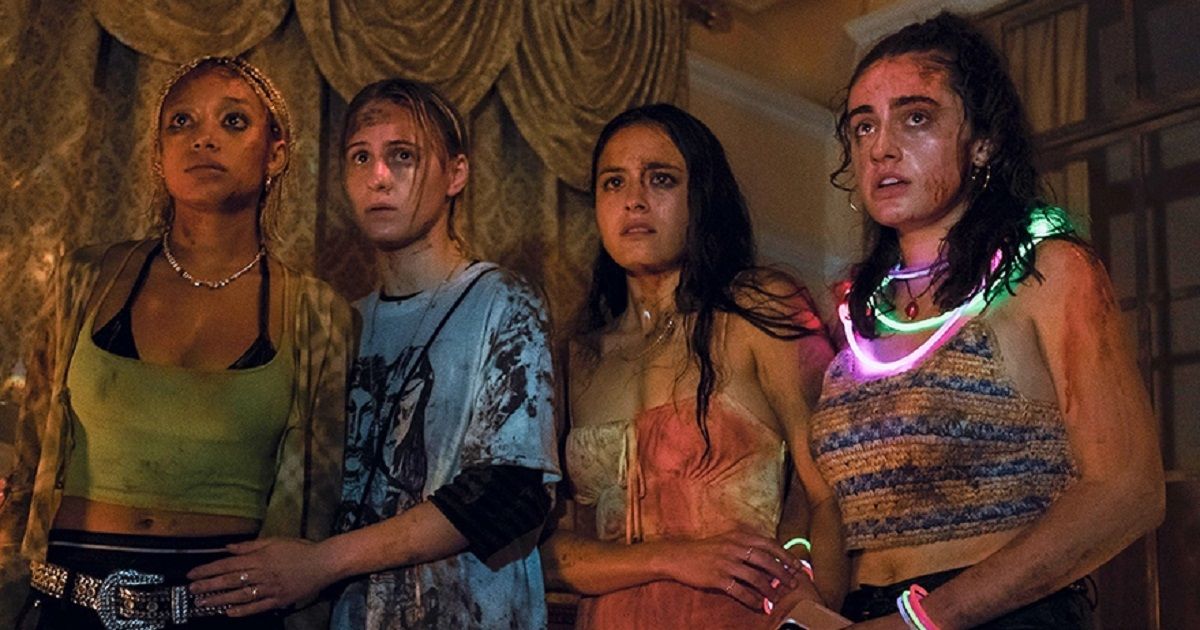 Bodies Bodies Bodies is the most recent film to be added to this list. Set at a Hurrican Party, the movie sees a group of college-age kids held up in a mansion, but when one of them mysteriously dies turns into a murder mystery with everybody a suspect. It's unclear what time of the year the movie is set or if it's specifically a spring break movie, but Bodies Bodies Bodies has all the hallmarks of the genre. Lots of young people partying, and bikinis and swimsuits fit all the hallmarks of a Spring Break movie. The natural, carefree young attitude of living forever is now upended by the concept of death hanging over everything. It is funny and a little scary, offering a unique Spring Break viewing experience.
2
22 Jump Street (2014)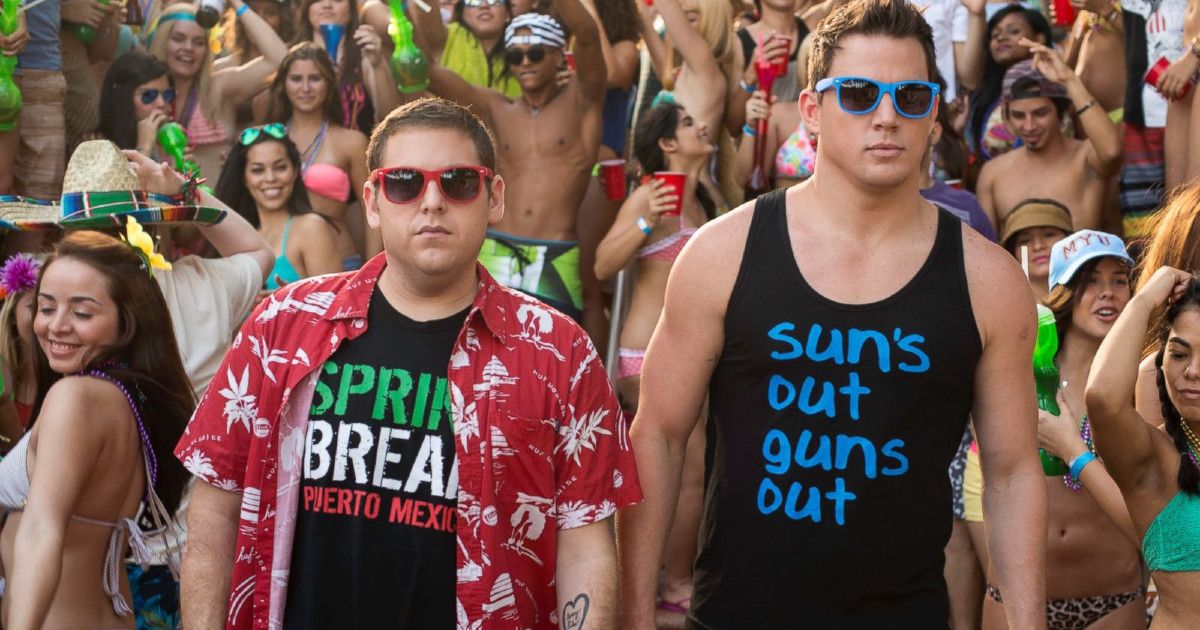 22 Jump Street's entire third-act finale takes place during Spring Break. It certainly makes sense, as the first film saw the duo of Schmitt (Jonah Hill) and Jenko (Channing Tatum) have their action set piece set at prom, which is the most important party time for high schoolers, setting the finale at the most important party time for college kids like Spring Break makes perfect sense. The entire movie is a riot, and the final action scene not only gives off a great Spring Break vibe but has the heart and humor that made this film and its predecessor big hits.
1
Spring Breakers (2013)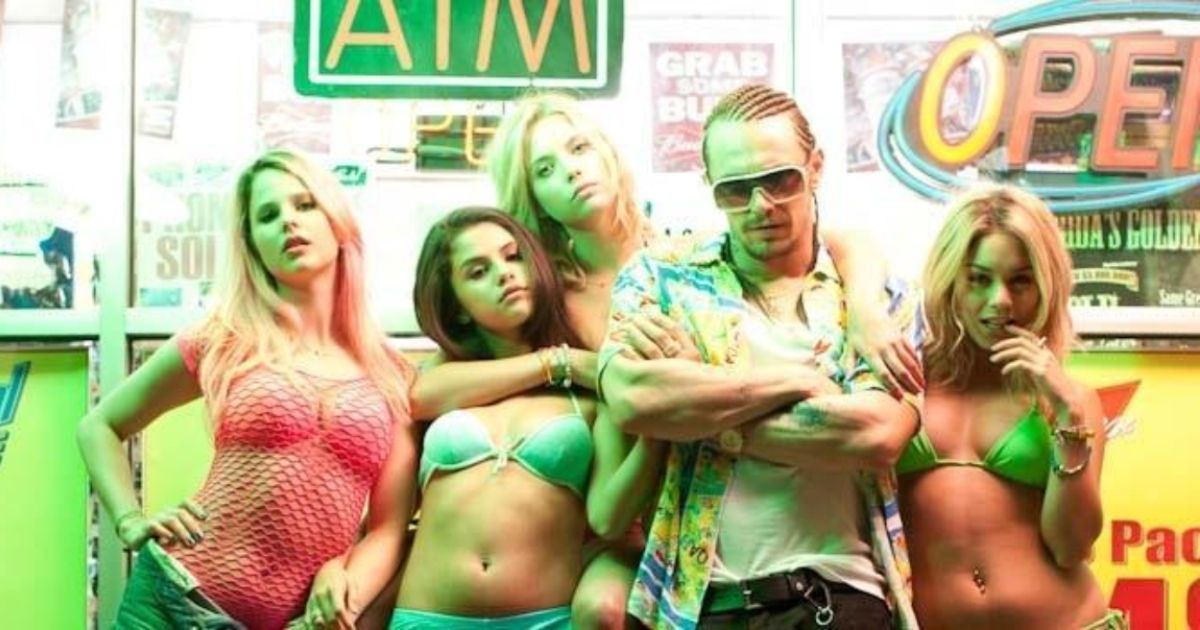 Leave it to the iconoclastic Harmony Korine to give make a post-modern take on the Spring Break film. Spring Breakers is a simple story; some girls head down to Florida for Spring Break and end up getting more than they bargained for. Or do they? That is where the brilliance of this film lies.
Whether it was Korine casting against type with the likes of Disney sweethearts Selena Gomez and Vanessa Hudgens or letting his camera lens linger just long enough to show how vapid this party culture can be, Spring Breakers may not be a great movie, but it breaks the Spring Break movie mold into a million pieces. As this story moves forward, we constantly hear "Spring Brrreaaaaaaakkkkk!!" until that itself becomes a rallying cry for just how little the culture behind this world has to offer. That, if nothing else, makes this a special Spring Break film.